JoHM S9/2020 - SPECIAL ISSUE 09 2020: Mortality of the elderly population during the COVID-19 pandemic [Gesundheitsberichterstattung - Journal of Health Monitoring, October 2020]
---
[previous page]
[next page]
---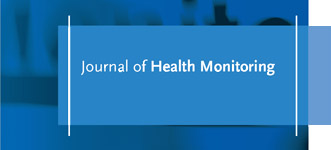 Journal of Health Monitoring
The Journal of Health Monitoring is an online journal published by the Robert Koch Institute. The new format within the portfolio of Federal Health Reporting is aimed at a broad (specialist) audience and focuses on important public health issues.
The journal offers scientific information on the health of the population in Germany. The analyses are mainly based on data of the health surveys conducted by the Robert Koch Institute. These analyses are presented in the form of focus articles and fact sheets which are linked by a common theme.
The Journal of Health Monitoring is published quarterly in German and English. All contributions to the journal are subject to peer review and can be downloaded free of charge from the website of the Robert Koch Institute.
Journal of Health Monitoring SPECIAL ISSUE S9/2020
October 2020 SPECIAL ISSUE 9
Mortality of the elderly population during the COVID-19 pandemic. Are there north-south differences?
Special Issue S9/2020 analyses the development of general mortality for Germany as a whole as well as for a north German and a south German region during the COVID-19 pandemic for the population aged 65 and over.
Analysing the extent of COVID-19-related and excess mortality requires defining the periods of increased general mortality. Therefore, the article analyses the mortality rates per calendar week that have been published by Germany's Federal Statistical Office (Destatis) for the first 23 calendar weeks of 2020. For comparison, the same period of 2016 is used, the last year during which no influenza-related excess mortality was registered.
File does meet accessibility standards.
---
Last Updated on 10/21/2020
---
[previous page]
[next page]
---

The Federal Health Monitoring System 7 May 2021