JoHM S05/2021 - SPECIAL ISSUE 05 2021: Individual trajectories of asthma, obesity and ADHD [Gesundheitsberichterstattung - Journal of Health Monitoring, April 2021]
---
[previous page]
[next page]
---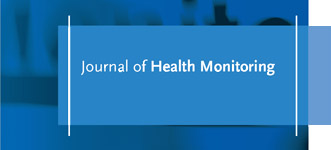 Journal of Health Monitoring
The Journal of Health Monitoring is an online journal published by the Robert Koch Institute. The new format within the portfolio of Federal Health Reporting is aimed at a broad (specialist) audience and focuses on important public health issues.
The journal offers scientific information on the health of the population in Germany. The analyses are mainly based on data of the health surveys conducted by the Robert Koch Institute. These analyses are presented in the form of focus articles and fact sheets which are linked by a common theme.
The Journal of Health Monitoring is published quarterly in German and English. All contributions to the journal are subject to peer review and can be downloaded free of charge from the website of the Robert Koch Institute.
Journal of Health Monitoring SPECIAL ISSUE S5/2021:
April 2021 SPECIAL ISSUE 5
Individual trajectories of asthma, obesity and ADHD during the transition from childhood and adolescence to young adulthood
Data on chronic diseases in childhood and adolescence are regularly collected in the German Health Interview and Examination Survey for Children and Adolescents (KiGGS).
Using KiGGS cohort data, this issue describes individual trajectories of asthma, obesity and ADHD
The KiGGS study is a key source of information for comprehensive and reliable data on the health situation of the upcoming generation. In the longitudinal component – the KiGGS cohort – 17,640 children and adolescents aged between 0 and 17 years who took part in the KiGGS baseline study (2003 to 2006) were interviewed and examined into young adulthood.
File does meet accessibility standards.
---
Last Updated on 04/07/2021
---
[previous page]
[next page]
---

The Federal Health Monitoring System 2 Dec 2022