JoHM S5/2020 - SPECIAL ISSUE 05 2020: Seroepidemiological study on the spread of SARS-CoV-2 in populations in especially affected areas in Germany [Gesundheitsberichterstattung - Journal of Health Monitoring, August 2020]
---
[previous page]
[next page]
---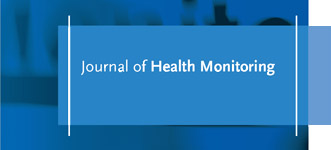 Journal of Health Monitoring
The Journal of Health Monitoring is an online journal published by the Robert Koch Institute. The new format within the portfolio of Federal Health Reporting is aimed at a broad (specialist) audience and focuses on important public health issues.
The journal offers scientific information on the health of the population in Germany. The analyses are mainly based on data of the health surveys conducted by the Robert Koch Institute. These analyses are presented in the form of focus articles and fact sheets which are linked by a common theme.
The Journal of Health Monitoring is published quarterly in German and English. All contributions to the journal are subject to peer review and can be downloaded free of charge from the website of the Robert Koch Institute.
Journal of Health Monitoring SPECIAL ISSUE 5/2020:
August 2020 SPECIAL ISSUE 5
Seroepidemiological study on the spread of SARS-CoV-2 in populations in especially affected areas in Germany - Study protocol of the CORONA-MONITORING local study
At a regional and local level, the COVID-19 pandemic has not spread out uniformly in Germany. In the CORONA-MONITORING lokal study, 2,000 participants of four municipalities which were especially affected will be tested for an active SARS-CoV-2 infection or a past infection. Special Issue S5/2020 presents the study protocol of CORONA-MONITORING lokal.
Among other things, the study protocol describes the study design, the sample, the study procedure, survey methods and content as well as aspects of quality assurance of CORONA-MONITORING lokal.
File does meet accessibility standards.
---
Last Updated on 11/18/2020
---
[previous page]
[next page]
---

The Federal Health Monitoring System 29 Jun 2022