JoHM S6/2020 - SPECIAL ISSUE 06 2020: Migraine and tension-type headache in Germany [Gesundheitsberichterstattung - Journal of Health Monitoring, September 2020]
---
[previous page]
[next page]
---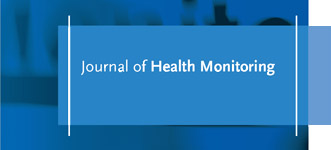 Journal of Health Monitoring
The Journal of Health Monitoring is an online journal published by the Robert Koch Institute. The new format within the portfolio of Federal Health Reporting is aimed at a broad (specialist) audience and focuses on important public health issues.
The journal offers scientific information on the health of the population in Germany. The analyses are mainly based on data of the health surveys conducted by the Robert Koch Institute. These analyses are presented in the form of focus articles and fact sheets which are linked by a common theme.
The Journal of Health Monitoring is published quarterly in German and English. All contributions to the journal are subject to peer review and can be downloaded free of charge from the website of the Robert Koch Institute.
Journal of Health Monitoring SPECIAL ISSUE 6/2020:
September 2020 SPECIAL ISSUE 6
Migraine and tension-type headache in Germany. Prevalence and disease severity from the BURDEN 2020 Burden of Disease Study
Special Issue S6/2020 gives an overview of headache disorders in Germany. It focuses on the frequency and disease severity of migraine and tension-type headache.
In addition, the issue analyses the social determinants of headache disorders and examines the utilisation of outpatient medical services and the use of medication by people with headache disorders.
The data is based on a nationwide cross-sectional telephone survey of headache, back and neck pain, which was developed by the Robert Koch Institute and conducted between October 2019 and March 2020 as part of the project "BURDEN 2020 – The burden of disease in Germany at the national and regional level".
File does meet accessibility standards.
---
Last Updated on 09/09/2020
---
[previous page]
[next page]
---

The Federal Health Monitoring System 29 Jun 2022